Highlighted Researth
Simulated Earth Heat Inventory in CMIP5 Simulations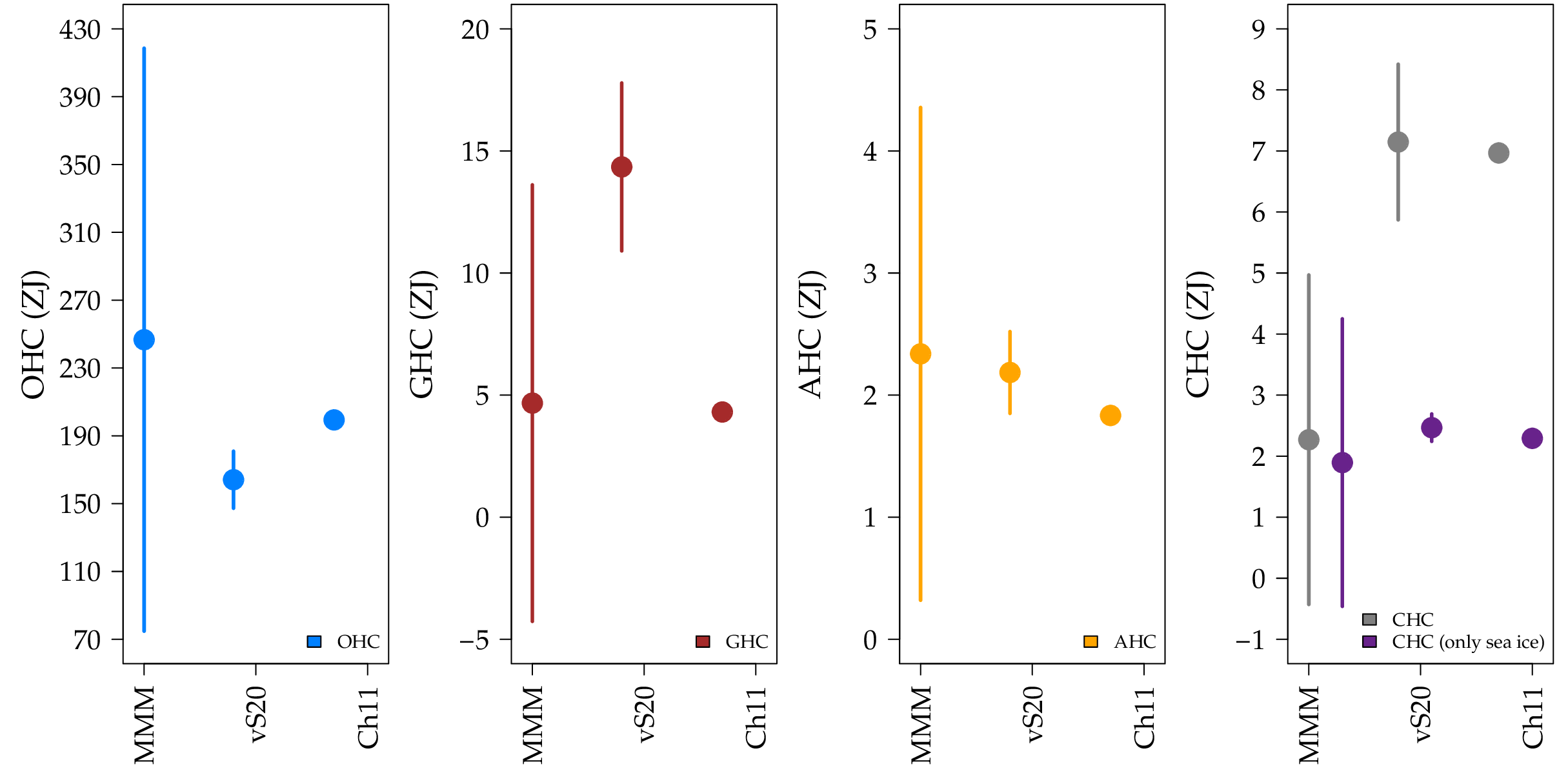 Anthropogenic activities have caused a sustained energy imbalance at the top of the atmosphere. That is, the Earth absorbs more solar radiation than it radiates back into the Space as infrared radiation. As result, there is a heat storage within the different Earth's subsystems: the ocean, the atmosphere, the cryosphere, and the continental subsurface. Although the ocean accounts for around the 89% of the total heat storage, the heat storage within the rest of components is not negligible, since numerous processes relevant to the evolution of climate change depend on this redistribution of heat.
Many efforts have been dedicated to understand the changes in ocean heat content due to its large capacity to store energy and its importance for understanding climate change, but only in recent times there have been coordinated efforts to measure the entire Earth heat inventory. Furthermore, only a few studies have assessed the ability of global climate simulations to represent the different components of the Earth heat inventory.
This work analyzes the ability of advanced climate models to correctly represent the heat storage within each Earth reservoir during the last part of the 20th century. The model ensemble overestimates the ocean heat storage, and underestimates the heat content of the continental subsurface and the cryosphere. Most model simulations capture the change in atmosphere heat storage and the heat uptake by sea ice melting. Limiting the range of responses to the external forcing by the models is required to enhance the comparison with observations, particularly for evaluating ocean heat storage, while the development of a few, key aspects of the land surface model components could greatly improve the represented continental heat storage and the heat uptake by terrestrial ice masses.
Reference:
Cuesta-Valero, F.J., García-García, A., Beltrami, H., and Finnis, J. (2021). First Assessment of the Earth Heat Inventory Within CMIP5 Historical Simulations. Earth Syst. Dynam., 12, 581-600, doi:10.5194/esd-12-581-2021. Article highlighted by the editors of ESD.
Feeling the Heat: The Grilled Earth. Entry for the EGU blog: Climate: Past, Present & Future.